We think about the little ones too!
Our hotel offers an inside playroom for the little ones. There is also a modern outdoor playground on the green zone next to the terrace of the hotel. These playgrounds were made especially for our always moving little guests.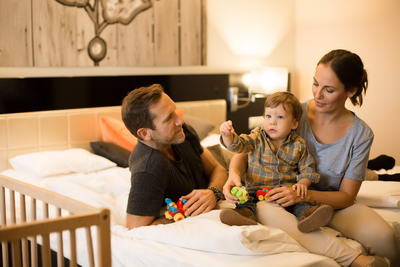 Equipment for children
Baby bed (baby cot)
Bedrail
Thermometer
Changing table
Diaper trash
Baby bottle warmer
Bathtub
Child toilet seat
Board games
Coloring book with color pencils
LED night light
Children proof safty lock
XBOX:
The guests of the hotel can use the Xbo all day for free.
Available games: Fifa17, Lego - Jurassic World, WRC7
You can ask for the consoles at the reception desk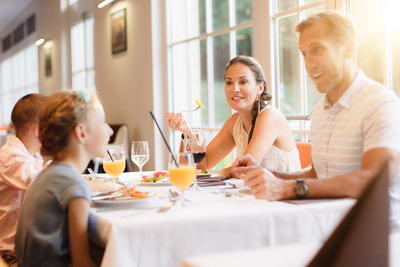 Gastronomy for the little ones:
Children's menu - We would like to make it sure that our smallest guests can enjoy the culinary delights, too
Our buffet offers always keep something for the little ones
Highchairs or booster seat are available in our restaurants
Bottle or baby food warming possibility - our colleagues are always ready to help you!
Colorful plates to ensure the endless fun
Disposable bib
At the reception for extra charge:
Nappy (size: 2 – 4) 250 HUF/piece
Swimming nappy (size: S-L) 300 HUF/piece
Wet wipes 400 HUF/piece
Baby shower and shampoo 200 ml 600 HUF/piece
Baby shower and shampoo 50 ml 350 HUF/piece
Our children's prices:
0 - 5.99 is free
6 - 9.99 50% payable
10 - 13.99 75% payable
Children over 14 pay 100%
Animation for children:
We are looking forward to welcome children with entertaining programmes with the lead of animators. The colorful programmes and the animators are looking forward to welcome children every week between Monday and Saturday in the summer time.
Look into our program offers:
Lemonade game
Everything about balloons
Pyjama party
Mini disco
Let's get to know the life of princesses and knights!
The child-friendly services of the St.Gotthard Spa & Wellness:
Children's pool, playroom
Outdoor playground
Entertaining programmes during festive weekends and the summer
Slides for every age group
Pharmacy, doctor:
Szent István Pharmacy: 9970, Szentgotthárd, Széll Kálmán Square 16.

Opened: Mo-Sa: 8 a.m. - 6 p.m., Sunday closed
Evening duty is also available

Magister-Pharm Bt. Belladonna Pharmacy: 9970, Szentgotthárd, Kethelyi Street 41.

Opened: Mo-Fri
8 a.m. - 12 p.m., 2 p.m. - 5 p.m.
Saturday and Sunday closed

Doctor on duty: 9970, Szentgotthárd, Rákóczi Ferenc Street 5.
Child-friendly programmes:
Cycling and wandering in the Region Őrség
Canoe trip on the River Raab
Adventure park in Szombathely called "Kalandváros"
Outdoor playground in the Őrség National Park
Zotter Chocolate Manufacory: Riegersburg, Bergl 56, Austria
Styrassic Park: Bad Gleichenberg, Dinoplatz 1., Austria
Castles:

Castle of Grad - Krajinski Park Goricko
Castles in Austria: Güssing, Riegersburg, Herberstein

Wild park in Herberstein