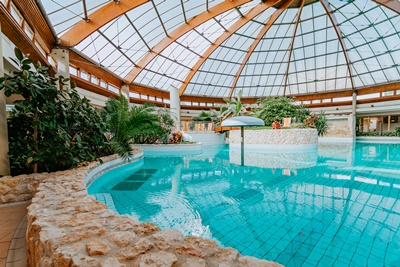 The animated Szentgotthárd Spa & Wellness operates all year round, with its 1,500-squaremetre water surface, special slides, Jacuzzis, saunas, sports facilities, therapeutic and wellness treatments, it provides a complex service, perfect relaxation and regeneration for families coming here.
Palm trees, exotic plants and matching stone facing ensure the unique Mediterranean atmosphere of the spa. Under the glass dome of the adventure spa it is Mediterranean spring even during the winter of January!
Our thermal water: Our thermal water, containing sodium bicarbonate and CO2, can help the treatment of musculoskeletal and gynaecological diseases, the post-treatment of sports injuries, and it can have a beneficial effect on treating neurological complaints as well as vascular disorders, it is also suitable for muscle relaxing bathing.
It can relieve complaints caused by degenerative joint diseases, spinal problems, it can effectively complement various physiotherapeutic and rheumatologic cures.
Opening hours: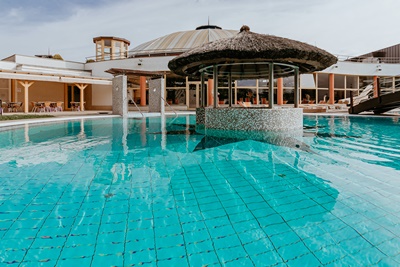 Adventure spa: 9:00-20:00
Swimming pool: 8:00-20:00
Sauna park: 12:30-19:00
Fitness: 8:00-20:00
Please note that the outdoor pools of the Szentgotthárd Spa & Wellness will be closed from September 4. The indoor pools can be used during the same opening hours
We would like to draw your attention, that between 25-28. September 2023 the Szentgotthárd Spa & Wellness keep closed because of maintanance. The thermal bath can be visited again from 29. September. Thank you for your understanding!